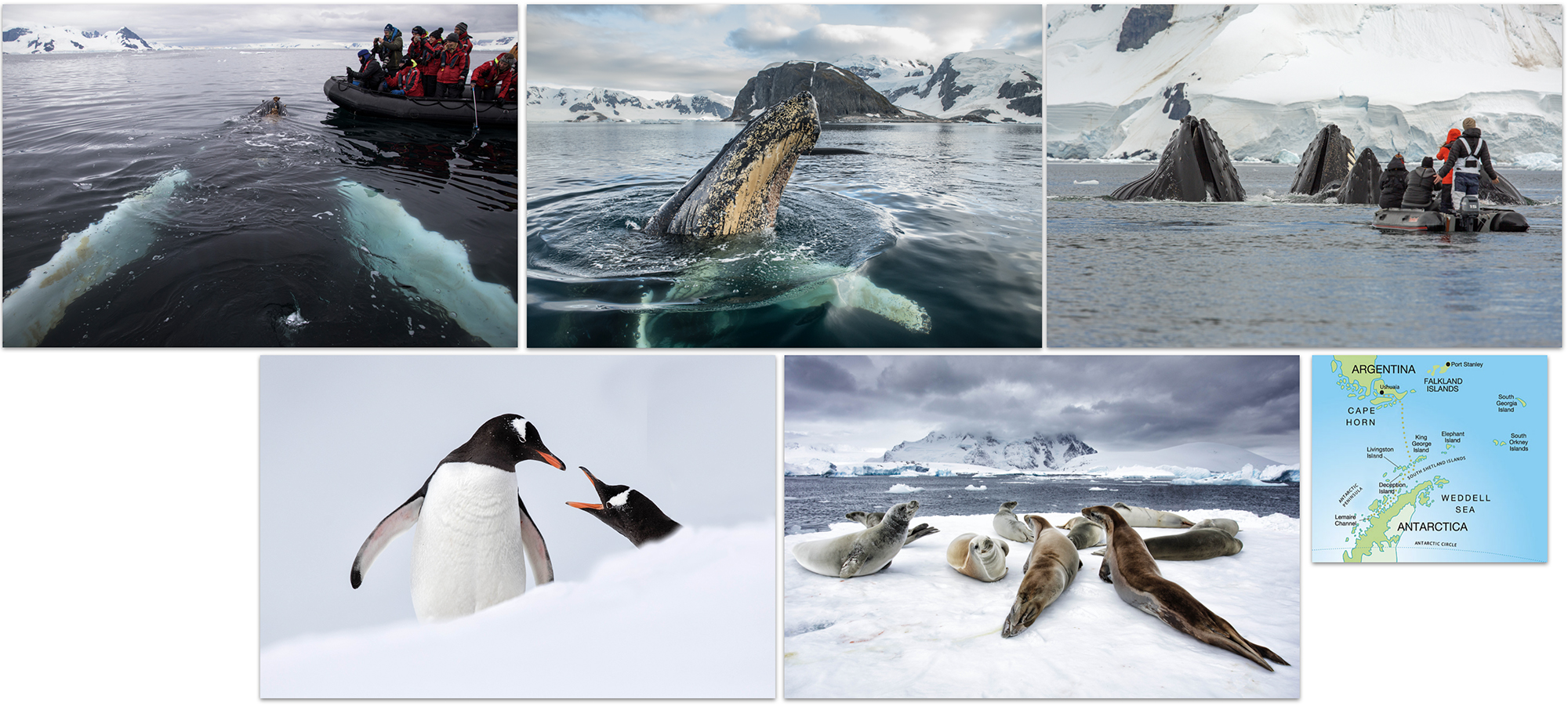 Whale Watching Expedition Cruise to the Antarctic Peninsula
With Cheesemans' Ecology Safaris
Mark joins forces with Cheesemans' Ecology Safaris, the highly reputable California-based wildlife travel company renowned for its conservation values, to focus on whales. February and March is peak season for spectacular encounters with humpback, Antarctic minke and killer whales in particular, as well as a host of other wildlife.
Highlights
• Travel on our exclusively chartered, comfortable and safe, ice-strengthened polar expedition ship – the m/v Plancius.
• With only 100 participants, everyone can land at once (this is the maximum number allowed to land together) which gives us maximum time ashore.
• Exciting cruises in inflatable Zodiacs during the peak season specifically to see large groups of feeding and inquisitive whales.
• Wonderfully varied Antarctic journey with superb wildlife watching in a spectacular setting of ice-choked waterways, glaciers, blue and white icebergs and rugged mountains.
• Experience some of the most dramatic sunrises and sunsets on Earth, bathing the utterly breathtaking wilderness landscapes in warm hues.
• Cetacean species likely, include: humpback, fin, sei, Antarctic minke and killer whales, as well as dusky, hourglass and Peale's dolphins (previous trips Mark has led have also seen blue whales, southern rightwhale dolphins, southern right whales, long-finned pilot whales, southern bottlenose whales and even Cuvier's beaked whales).
• Fabulous close encounters with Weddell, crabeater, leopard, southern elephant and Antarctic fur seals, as well as rookeries of Adélie, gentoo and chinstrap penguins. This is a great time to watch penguin chicks chasing their parents for food and cautiously learning how to swim.
• Outstanding schedule of lectures, talks, workshops and seminars from our 15 leaders – including Mark – who are marine scientists, polar historians and geologists, photographers and naturalists.
• We are delighted to announce that our great friend, Peter Bassett, Sir David Attenborough's producer – including BBC's recent The Green Planet – will be joining the trip.
Date 20 Feb-9 Mar 2022
Group size 100 people (split 50:50 with Cheesemans' Ecology Safaris and Mark)
Cost per person From US$13,450, which is about £9,500 (excluding flights)
Availability Places still available
Organised by Cheesemans' Ecology Safaris, but please contact Rachel Ashton if you wish to book
T: +44 (0) 117 904 8934 E: rachel@markcarwardine.com
---
Carbon offsetting your flights
We use the World Land Trust's Carbon Balanced programme which enables travellers to offset their residual greenhouse gas emissions through the protection and restoration of carbon-rich wildlife habitats in the tropics.
Click here to donate.