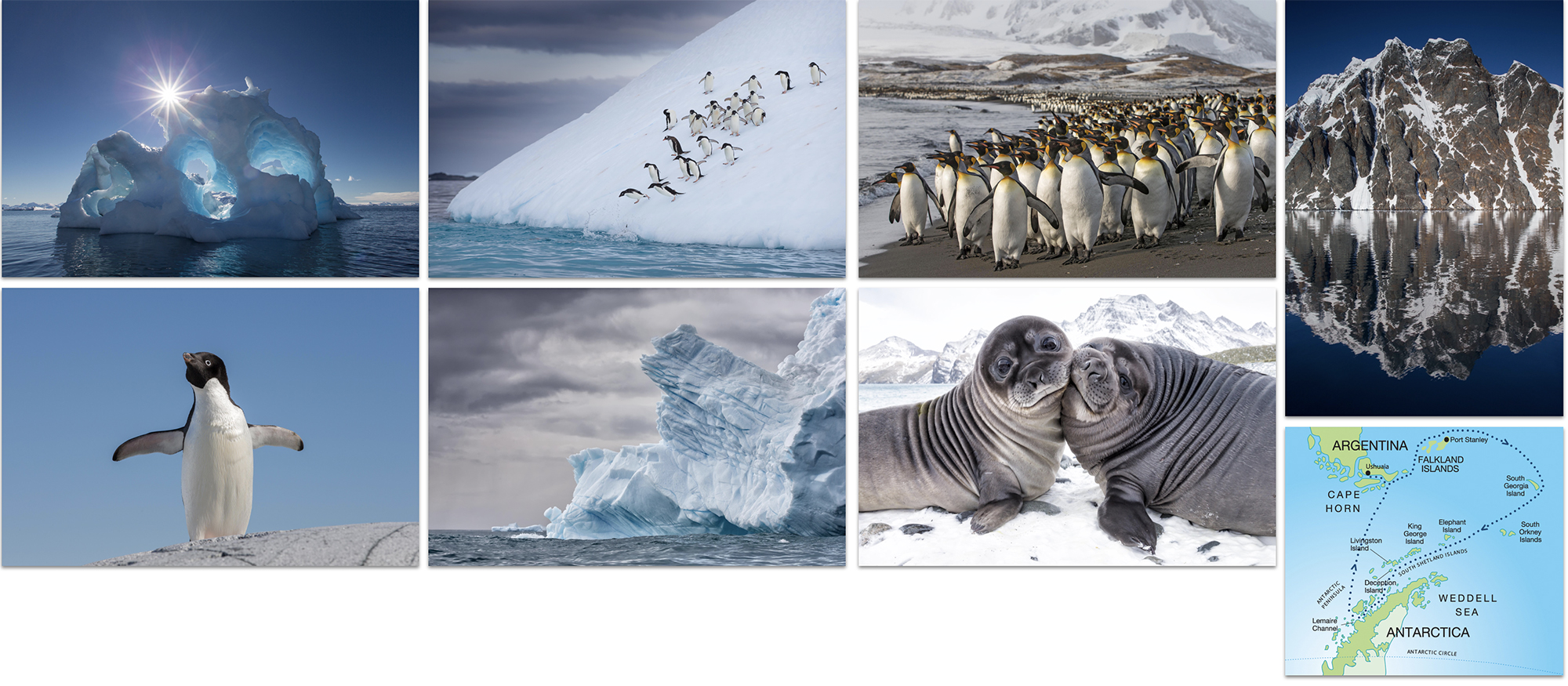 Frozen South Adventure: The Falkland Islands, South Georgia & Antarctic Peninsula
With Wildlife Worldwide
We've combined all the very best wildlife and wild places in this one outstanding trip, led by Mark (who has visited the region some 40 times). If you're going to make the journey to the bottom of the world you might as well do it properly – as once-in-a-lifetime experiences go, it doesn't get much better. We'll visit prime sites in the Falkland Islands, around the remote island of South Georgia, along the breathtakingly beautiful Antarctic Peninsula and in the South Shetland Islands to see a mind-boggling variety of wildlife and wild places.
Highlights
• Plenty of time ashore to enjoy the overwhelming scenery in long hours of daylight, mingling with hundreds of thousands of penguins and huge elephant seals along the way.
• Our wildlife voyage takes us across to the Scotia Sea, meeting researchers, visiting Ernest Shackleton's grave.
• An outstanding itinerary of entertaining and informative lectures and workshops from our leaders, as well as talks and seminars with the rest of the ship by the onboard expedition team.
• November in this region offers plenty of daylight and the snow is pristine.
• The wildlife activity is exceptional, with many courting penguins and fur seal pups being born.
• On South Georgia, this is the only time to see male elephant seals fighting on the beaches.
• An excellent time for photography – we should encounter a few picturesque snowstorms, as well as a mix of sunny and overcast days.

Dates
14 Nov-3 Dec 2022
Cost per person From £15,595
Availability Some places available
Organised by Wildlife Worldwide T: +44 (0) 1962 302 086
E: sales@wildlifeworldwide.com
---
Carbon offsetting your flights
We use the World Land Trust's Carbon Balanced programme which enables travellers to offset their residual greenhouse gas emissions through the protection and restoration of carbon-rich wildlife habitats in the tropics.
Click here to donate.