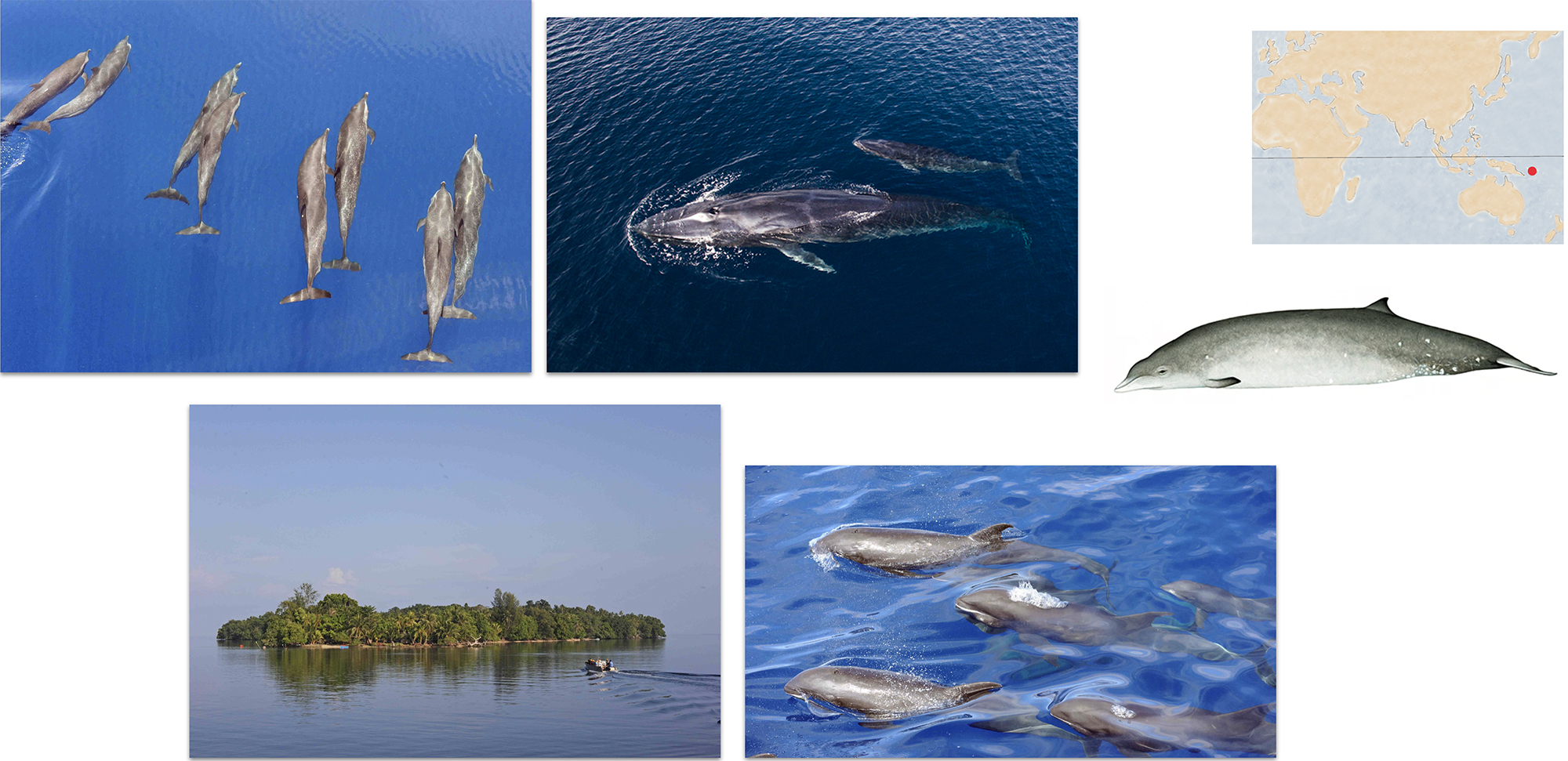 Whale Watching in the Solomon Islands
Join Mark for a 10-night magical cruise on our exclusively chartered live-aboard boat. The Solomon Islands in the South Pacific are a hotspot for some of the most fascinating whales and dolphins on the planet, as well as magnificent coral reefs for snorkelling and diving.
Highlights
• Travel past far-flung tropical islands, enjoying the scenery, and taking our time to watch dolphins, whales and seabirds.
• Fabulous chance of seeing a wide variety of cetaceans such as Bryde's, sperm and dwarf sperm whales; pilot, pygmy killer, melon-headed, false killer and killer whales; Cuvier's, Longman's and Blainville's beaked whales; rough-toothed, Fraser's, Risso's, Indo-Pacific bottlenose, spinner, spotted and striped dolphins.
• A very special and exciting highlight is the chance of seeing the rare Omura's whales (aerial photo above) and Deraniyagala's beaked whales (illustration above)., which occur in very few locations.
• Snorkelling on some of the world's most spectacular reefs, with opportunities to scuba dive.
• A small group of just 16 passengers.
• An exclusively chartered boat, the MV Bilikiki (all cabins are ensuite and air-conditioned) with highly experienced crew. Because we have an exclusive charter, we can take as much time as we like to investigate wildlife sightings and enjoy a flexible itinerary. We are in no rush!
• Lots of species of seabirds and land birds, including many endemics and regional specialities – everything from boobies and frigatebirds to Solomon Island sea eagle and eclectus parrot.

Dates 17-27 Nov; 27 Nov-7 Dec (these are the dates on board the boat)
Group size 16 people
Cost per person (excluding flights) £6,995

Availability 17-27 Nov 2023: 1 male place
27 Nov-7 Dec 2023: 1 male place
Please contact Rachel Ashton for more information
T: +44 (0) 117 904 8934 E: rachel@markcarwardine.com
Our booking promise
If we can run a holiday safely, we will. But if we do have to cancel because of Covid-19, we offer you a simple choice: either a full refund (within 14 days) or the option of transferring to a future trip with The Whale Watch Company (if you transfer to the same trip the following year or the year after we'll honour the price you originally paid).
We also strongly recommend you book flights via an agent such as Avocet Travel or Trailfinders rather than direct with an airline. And we strongly recommend that you have adequate travel insurance in place with Covid-19 protection (in case you have to cancel even if the trip is running) through a company such as Trailfinders Insurance, Campbell Irvine and P J Hayman.

Your financial protection is guaranteed when you book with us
---
Carbon offsetting your flights
We use the World Land Trust's Carbon Balanced programme which enables travellers to offset their residual greenhouse gas emissions through the protection and restoration of carbon-rich wildlife habitats in the tropics.
Click here to donate.