Whale-watching expedition to the Antarctic Peninsula
20 February-9 March 2023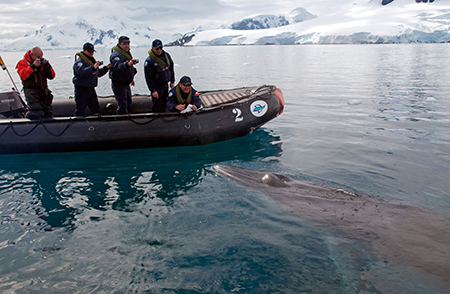 Mark joins forces with Cheesemans' Ecology Safaris, a long-established and highly reputable wildlife travel Californian company, renowned for its conservation values, to focus on whales. February and March is peak season for spectacular encounters with humpback, Antarctic minke and killer whales in particular, as well as a host of other wildlife.
Group size 100 people (split 50:50 with Cheesemans' Ecology Safaris and Mark)
Cost per person From US$13,450, which is about £10,100 (excluding flights)
Availability Places still available
Find out more here
Organised by Cheesemans' Ecology Safaris, but please contact Rachel Ashton if you wish to book
T: +44 (0) 117 904 8934 E: rachel@markcarwardine.com
---
Carbon offsetting your flights
We use the World Land Trust's Carbon Balanced programme which enables travellers to offset their residual greenhouse gas emissions through the protection and restoration of carbon-rich wildlife habitats in the tropics.
Click here to donate.