Snorkel with sperm whales in the Caribbean *NEW TRIP*
20-28 November; 28 November-6 December 2021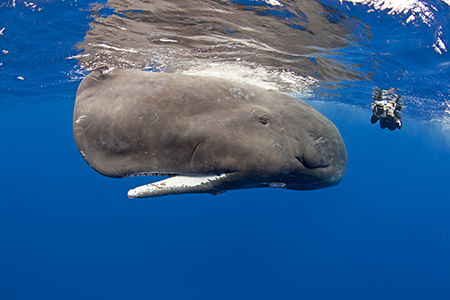 Beautiful Dominica is one of the few countries in the world where sperm whales live year-round (though sightings are most common between November and March – which happen to be the best months weather-wise and for calm seas). We hope to have some wonderful encounters – the protected lee of the island is an important calving ground, so we hope to see nursery groups of females with their young calves, as well as visiting males. The sheltered waters are deep very close to shore – so we rarely have to go far out to sea. We have special permits (very few permits are issued and we are lucky to get them).
Group size 8 people per group
Cost per person (excluding flights) £5,995

Availability Both trips fully booked (waitlists available)
Find out more here
Please contact Rachel Ashton if you wish to book on the first trip or go on waitlist for the second
T: +44 (0) 117 904 8934 E: rachel@markcarwardine.com

Your financial protection is guaranteed when you book with us
---
Carbon offsetting your flights
We use the World Land Trust's Carbon Balanced programme which enables travellers to offset their residual greenhouse gas emissions through the protection and restoration of carbon-rich wildlife habitats in the tropics.
Click here to donate.