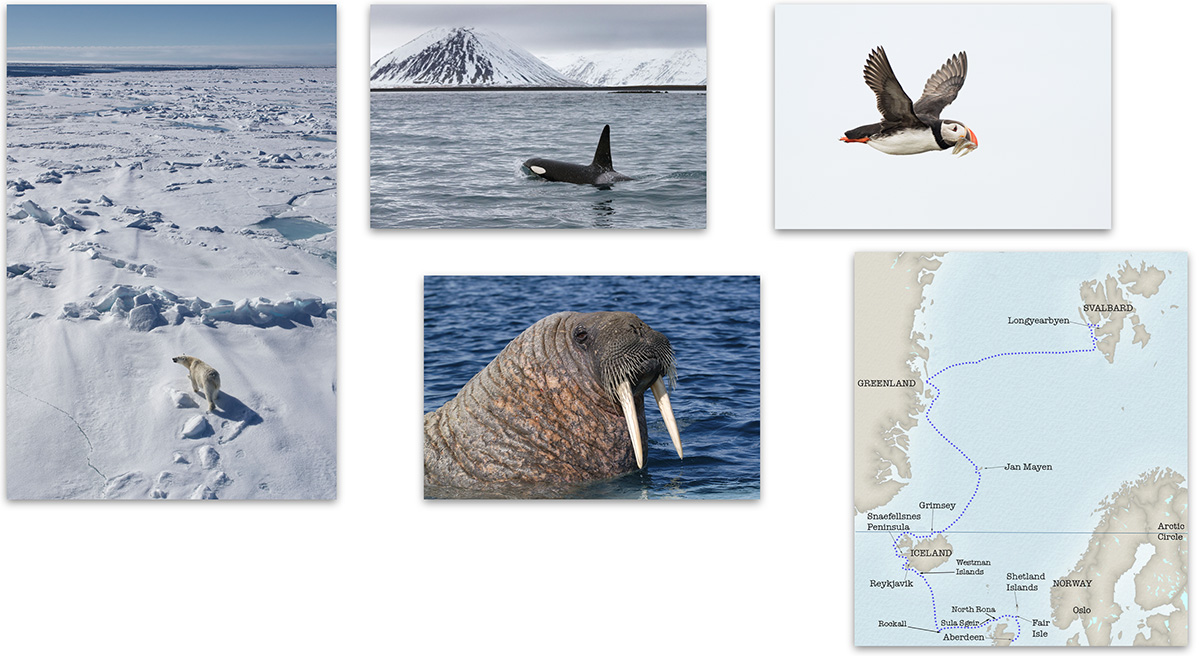 Scotland to Svalbard: A North Atlantic Adventure
With Wildlife Worldwide
Wildlife Worldwide has exclusively chartered the M/V Ortelius – a comfortable and ice-strengthened polar expedition ship – for this wonderful 16-night wildlife expedition cruise from the east coast of Scotland all the way to the icy realms of Svalbard. During the voyage we'll visit prime sites in the North Atlantic, the Greenland Sea, and the Arctic Ocean and, along the way, will have plenty of time ashore and multiple opportunities to enjoy the fabulous variety of wildlife.
We hope to visit the world-renowned bird paradise of Fair Isle, the remote islets of North Rona and Rockall, explore Iceland's moon-like landscapes and rugged coastline and sail through one of the best places in the world for blue whales. In addition, we will stand on the Arctic Circle, visit the home of the last breeding pair of great auks, explore the mysterious island of Jan Mayen, cruise along the pack ice and look for polar bears in the high Arctic. All of this before exploring parts of Svalbard and disembarking in Longyearbyen.
"This is a rare opportunity to go in search of some of the best wildlife of the North Atlantic and the high Arctic – minke whales, blue whales and an impressive variety of other whales and dolphins, several of the biggest seabird colonies in the world, polar bears, walruses, harp seals, and much more – all in a single trip. We may be departing from Aberdeen, yet we will visit some of the most remote and seldom visited wildlife-rich hotspots in the region." Mark Carwardine
Highlights
• Travel on our exclusively chartered, very comfortable and safe, ice-strengthened polar expedition ship – the M/V Ortelius – with plenty of deck space.
• Good-sized and exceptionally stable ship for comfortable sea crossings (ships that are too small take considerably longer and give a rougher ride).
• All cabins have private bathrooms.
• Wonderfully varied journey with superb wildlife watching in spectacular settings.
• Join Mark and award-winning landscape photographer Joe Cornish, Mark's project manager Rachel Ashton, and Wildlife Worldwide founder Chris Breen.
• A full 16 nights on board the ship – with long hours of daylight – giving maximum time to explore.
• Join the ship in Aberdeen, saving the cost and trouble of an international flight.
• Wildlife we hope to see includes huge colonies of Atlantic puffins, little auks, gannets and other seabirds, ivory gulls, king eiders, polar bears, walruses, seals (harp, hooded, bearded, grey, common, ringed and others), and a wide variety of cetaceans (including bowhead whales, blue whales, fin whales, sei whales, minke whales, humpback whales, belugas, killer whales, white-beaked dolphins, Atlantic white-sided dolphins, and harbour porpoises).
• Explore Iceland's Westman Islands, and Grimsey Island which is cut in half by the Arctic Circle, as well as the remote and rarely visited Norwegian island of Jan Mayen.
• Cruise along the northeast Greenland pack ice – where few people get to go – to look for polar bears, bowhead whales, harp seal haul-outs, and lots more.
• Exciting cruises in inflatable Zodiacs for up-close encounters with wildlife and wild places.
• We will give you a link to the comprehensive slideshow produced by Rachel and presented on the last night, together with marine charts and wildlife checklists.
• Fabulous photographic and video opportunities.

Dates 2-18 June 2024; 27 May-12 June 2025
Group size 101 people (including our own expedition team)
Cost per person in 2025 from £6,895 (excluding flights)
Availability 2024: 4 places available (2 Twin Deluxe cabins)
2025: places available
Organised by Wildlife Worldwide T: +44 (0) 1962 302 086
E: sales@wildlifeworldwide.com
---
Carbon offsetting your flights
We use the World Land Trust's Carbon Balanced programme which enables travellers to offset their residual greenhouse gas emissions through the protection and restoration of carbon-rich wildlife habitats in the tropics.
Click here to donate.