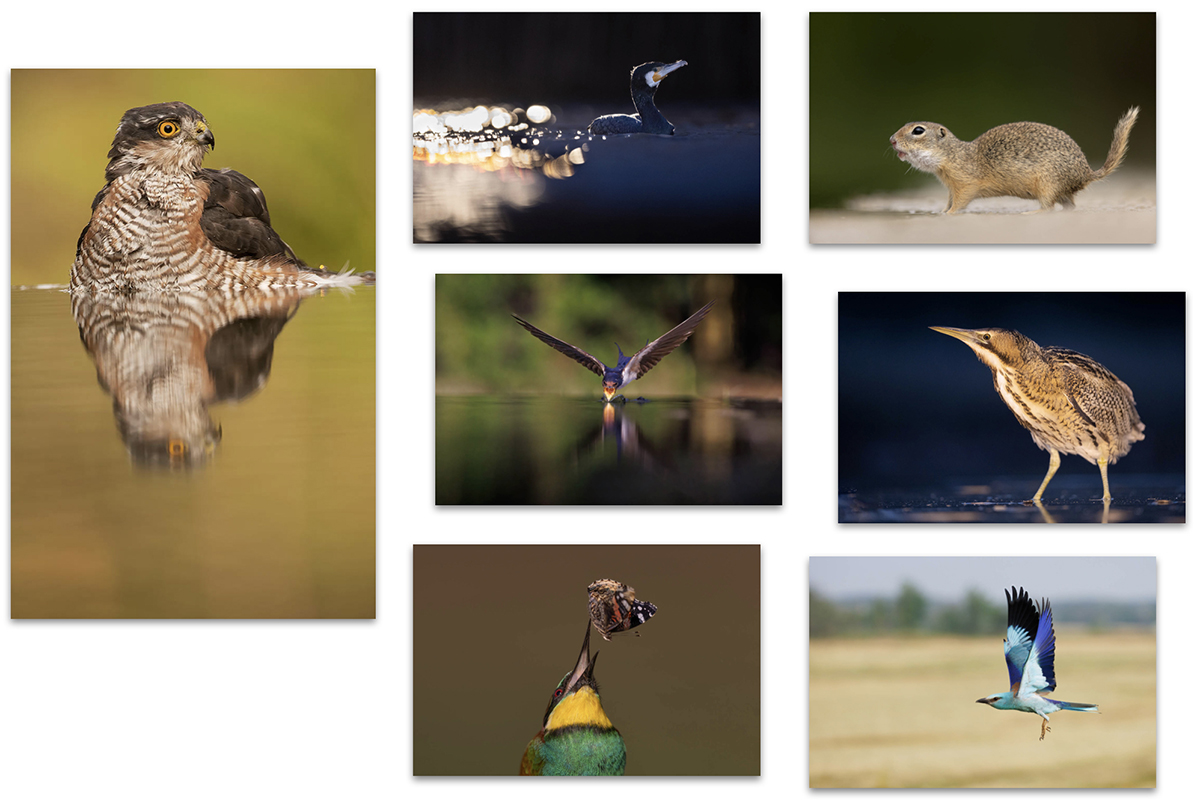 Fabulous Wildlife Photography in Hungary
If you love photographing wildlife, this is a brilliant and unmissable opportunity! Join Mark for a fun and inspirational week of unlimited and exclusive use of up to 24 of the best wildlife photography hides in the world (the precise number depends on the season). Designed and built by Mark's great friend, multi-award-winning wildlife photographer Bence Mate, they offer dazzling perspectives (including treetop and water-level shooting) in some truly wonderful settings. Suitable for beginners and experienced photographers alike, with Mark giving our small groups advice, help and inspiration throughout, it's the perfect week to practise and perfect your photography. Our chosen location is a hotspot for strikingly healthy bird populations in Eastern Europe, and species that are largely lost in the UK. Depending on the season, we hope to photograph everything from white-tailed eagles, bitterns, little owls and hawfinches to spoonbills, black woodpeckers, European bee-eaters and hoopoes, with otters, ground squirrels, hares and roe deer thrown in for good measure.
Highlights
• Unlimited and exclusive use of wonderful hides.
• Hides are superbly comfortable and extremely well designed for photography – they're not just wooden sheds!
• A hotspot for strikingly healthy bird populations and species such as cuckoos, goshawks, European bee-eaters, turtle doves, spoonbills and water rails, as well as European otters and foxes.
• A variety of unique and brilliant hides designed by multi-award-winning photographer Bence Mate – they are the best in the world, with heating, some with built-in tripods and even WiFi; Bence also pioneered the integration of one-way glass into his hides so that we can maximise photographic opportunities without disturbing the wildlife.
• Both beginners and more experienced photographer will benefit from the week.
• Evenings are spent either in the hides or poring over the photos of the day and chatting about how to improve the following day.

Dates in 2024
20-27 April (9 people)
27 April-4 May (9 people)
Dates in 2025
8-15 February (6 people)
5-12 July (14 people)
12-19 July (14 people)

Cost per person from £4,095 per person (excluding international flights).
Cost of return economy international flights from Heathrow to Budapest £250 economy, £500 business (2024 only)
Availability
2024
20-27 April: fully booked (waitlist available)
27 April-4 May: 2 places available
2025
8-15 February: fully booked (waitlist available)
5-12 July: places available
12-19 July: places available

Click here if you wish to book, or phone Rachel Ashton on 0117 904 8934
Organised by Wildlife Worldwide T: +44 (0) 1962 302 086
E: sales@wildlifeworldwide.com
---
Carbon offsetting your flights
We use the World Land Trust's Carbon Balanced programme which enables travellers to offset their residual greenhouse gas emissions through the protection and restoration of carbon-rich wildlife habitats in the tropics.
Click here to donate.