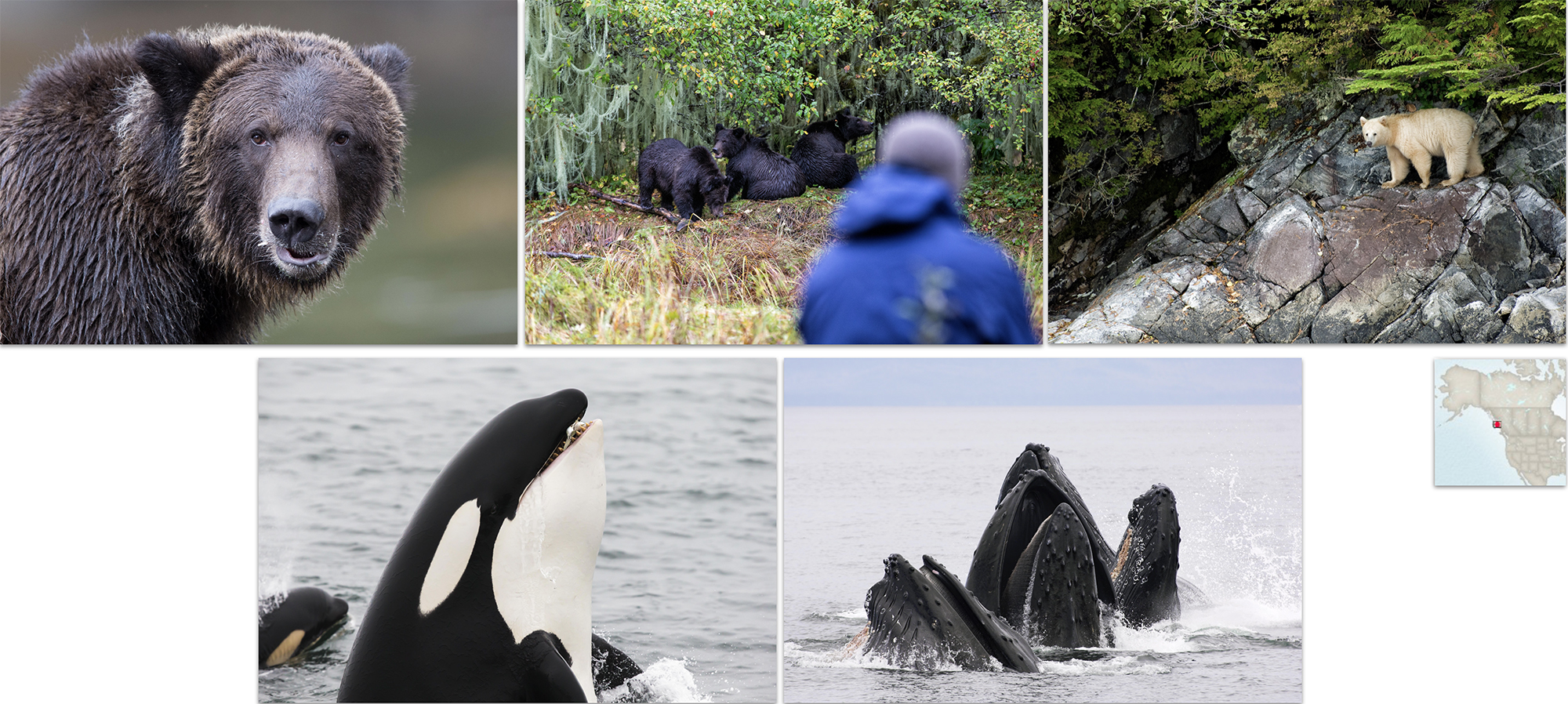 Bears & Whales in the Great Bear Rainforest in Canada
Here is a fabulous opportunity to join Mark's exclusive 11-night boat charters to explore the Great Bear Rainforest. One of the greatest and most wildlife-rich wildernesses on Earth, it is the largest remaining tract of intact temperate rainforest left in the world and is home to whales, bears and a host of other wonderful North American wildlife.
Highlights
• Journey through the wonderful maze of rainforest channels in search of whales and bears – from bubble-netting humpback whales, killer whales and fin whales, to grizzly bears, black bears and elusive spirit bears (rare and charismatic black bears with white coats).
• We hope to see a wide variety of other wildlife: coastal wolves, bald eagles, Pacific white-sided dolphins, Dall's porpoises, Steller sea lions and American martens, to name but a few.
• Small group of just 12 passengers plus Mark (and an experienced crew) aboard a private yacht.

Dates in 2024 3-12 Sep; 11-20 Sep; 19-28 Sep
Group size 12 people per group
Cost per person £6,595 (excluding flights)
Availability
3-12 Sep: fully booked (waitlists available)
11-20 Sep fully booked (waitlists available)
19-28 Sep: 1 male place available
Please contact Rachel Ashton for more information
T: +44 (0) 117 904 8934 E: rachel@markcarwardine.com
Your financial protection is guaranteed when you book with us
---
Carbon offsetting your flights
We use the World Land Trust's Carbon Balanced programme which enables travellers to offset their residual greenhouse gas emissions through the protection and restoration of carbon-rich wildlife habitats in the tropics.
Click here to donate.