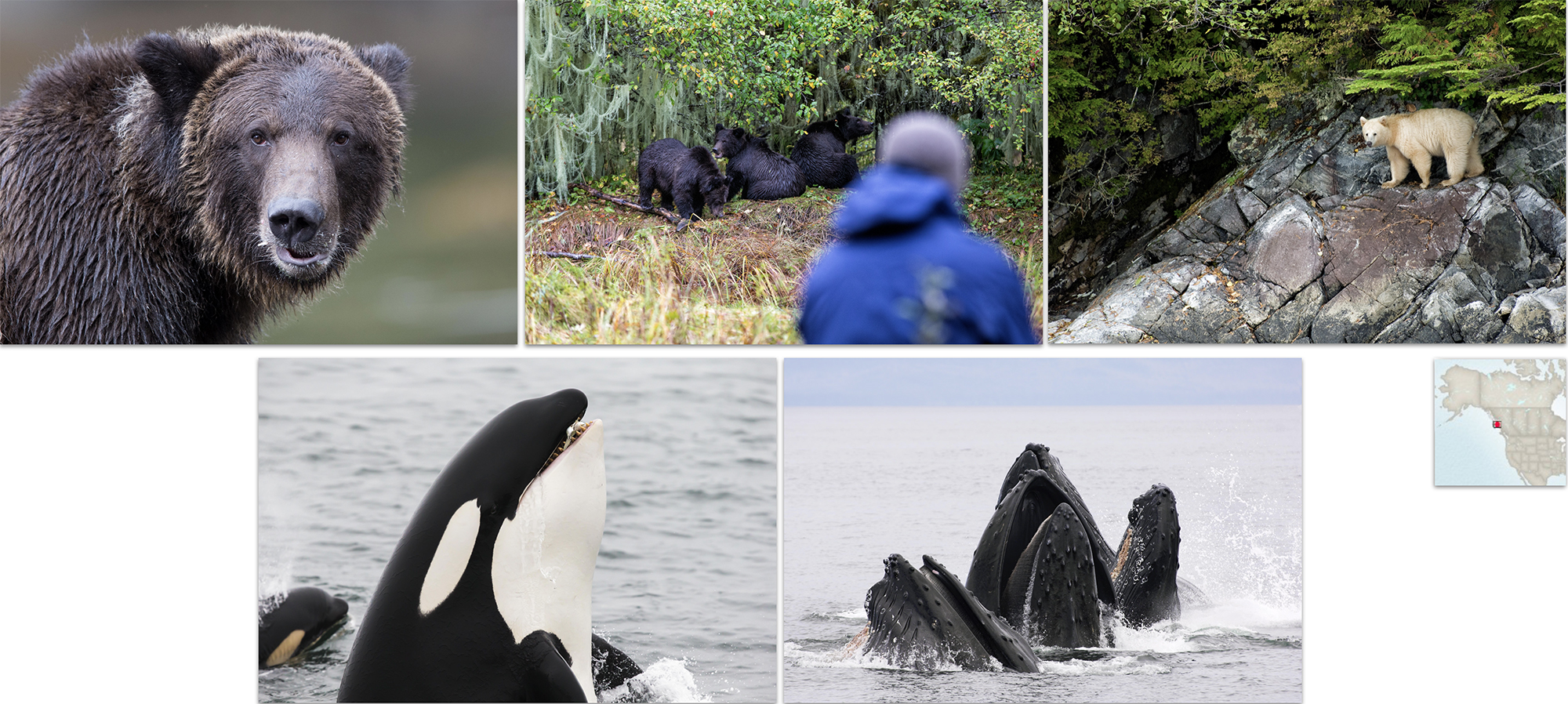 Bears & Whales in the Great Bear Rainforest in Canada
Here is a fabulous opportunity to join Mark's exclusive 11-night boat charters to explore the Great Bear Rainforest. One of the greatest and most wildlife-rich wildernesses on Earth, it is the largest remaining tract of intact temperate rainforest left in the world and is home to whales, bears and a host of other wonderful North American wildlife.
Highlights
• Journey through the wonderful maze of rainforest channels in search of whales and bears – from bubble-netting humpback whales, killer whales and fin whales, to grizzly bears, black bears and elusive spirit bears (rare and charismatic black bears with white coats).
• We hope to see a wide variety of other wildlife: coastal wolves, bald eagles, Pacific white-sided dolphins, Dall's porpoises, Steller sea lions and American martens, to name but a few.
• Small group of just 12 passengers plus Mark (and an experienced crew) aboard a private yacht.

Dates
2-12 Sep; 10-20 Sep
Group size 12 people per group
Cost per person in 2023 £5,995 (excluding flights)
Cost per person in 2024 £TBC (excluding flights)
Availability in 2023
2-12 Sep: fully booked (waitlists available)
10-20 Sep: fully booked (waitlists available)
Availability in 2024
Taking names
Please contact Rachel Ashton for more information
T: +44 (0) 117 904 8934 E: rachel@markcarwardine.com
Our booking promise
If we can run a holiday safely, we will. But if we do have to cancel because of Covid-19, we offer you a simple choice: either a full refund (within 14 days) or the option of transferring to a future trip with The Whale Watch Company (if you transfer to the same trip the following year or the year after we'll honour the price you originally paid).
We also strongly recommend you book flights via an agent such as Avocet Travel or Trailfinders rather than direct with an airline. And we strongly recommend that you have adequate travel insurance in place with Covid-19 protection (in case you have to cancel even if the trip is running) through a company such as Trailfinders Insurance, Campbell Irvine and P J Hayman.

Your financial protection is guaranteed when you book with us
---
Carbon offsetting your flights
We use the World Land Trust's Carbon Balanced programme which enables travellers to offset their residual greenhouse gas emissions through the protection and restoration of carbon-rich wildlife habitats in the tropics.
Click here to donate.