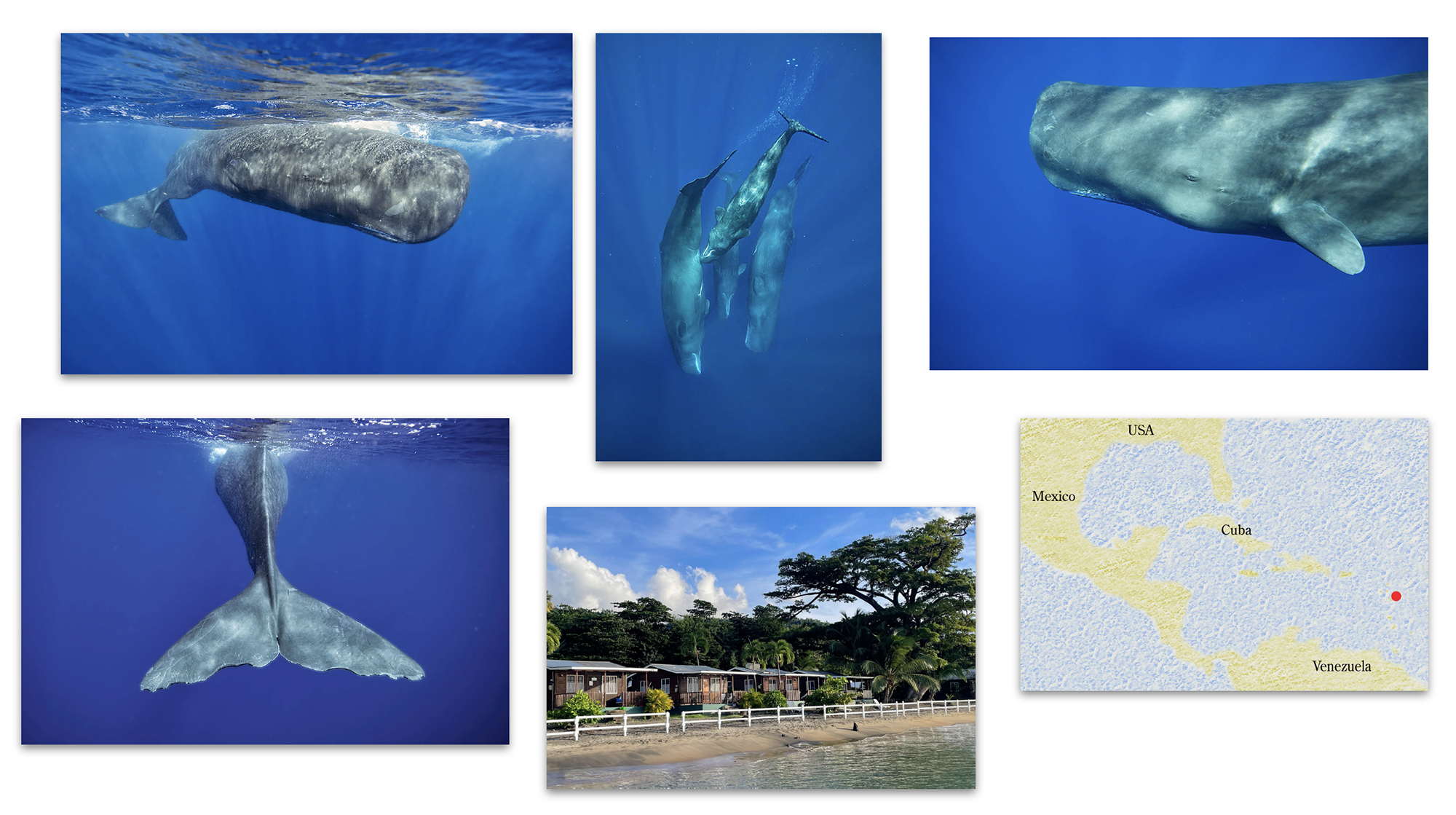 Snorkelling with Sperm Whales in the Caribbean
A wonderfully relaxing land-based tour – for a group of only eight people – to snorkel with friendly sperm whales in the crystal clear waters of Dominica. We have special permits (very few permits are issued and we are lucky to get them). We'll stay in a hotel on the beach and have our own specially chartered boat – during peak season – to snorkel with sperm whales and see a variety of other tropical whales and dolphins.
Highlights
• A thrilling and exclusive experience to be able to swim with these very gentle giants (which happen to be the largest toothed animal on Earth). To have close eye contact with these beautiful and intelligent animals is unforgettable...
• Stay in cottages, which open straight onto a glorious Caribbean beach.
• Mark helped kickstart Dominica's whale-watching industry back in the 1990s, which is why we have the sought-after permits to swim with the whales – it is all highly regulated and the whales' welfare is, of course, paramount.
• A small group to enable maximum amount of time in the water (just 2 people plus guide at a time, in rotation).
• Hopefully see other whale species that frequent Dominica, such as short-finned pilot whales, pygmy sperm whales and a host of tropical dolphins, including spinner, pantropical spotted, Fraser's, bottlenose and Risso's; also Bryde's whales, humpback whales and Cuvier's beaked whales.

Group size 8 people per group
Availability in January 2024
register your interest now!
Please contact Rachel Ashton for more information
T: +44 (0) 117 904 8934 / +44 7791-058-342 E: rachel@markcarwardine.com
Our booking promise
If we can run a holiday safely, we will. But if we do have to cancel because of Covid-19, we offer you a simple choice: either a full refund (within 14 days) or the option of transferring to a future trip with The Whale Watch Company (if you transfer to the same trip the following year or the year after we'll honour the price you originally paid).
We also strongly recommend you book flights via an agent such as Avocet Travel or Trailfinders rather than direct with an airline. And we strongly recommend that you have adequate travel insurance in place with Covid-19 protection (in case you have to cancel even if the trip is running) through a company such as Trailfinders Insurance, Campbell Irvine and P J Hayman.

Your financial protection is guaranteed when you book with us
---
Carbon offsetting your flights
We use the World Land Trust's Carbon Balanced programme which enables travellers to offset their residual greenhouse gas emissions through the protection and restoration of carbon-rich wildlife habitats in the tropics.
Click here to donate.