Whale watching in Baja California, Mexico – the best whale-watching
experience on Earth!
8-20 February; 23 February-7 March; 10-22 March; NEW CHARTER DATE: 25 March - 6 April;
9-21 April 2022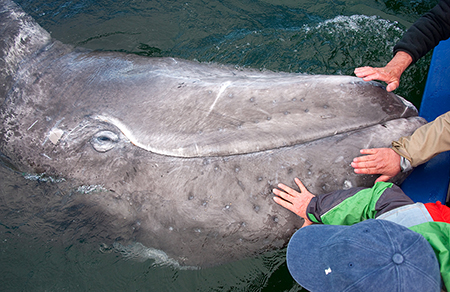 Baja California, on the Pacific coast of Mexico, is one of the best places in the world (if not the best) for whale and dolphin watching. During this superb holiday, we hope to see as many as 10-15 different cetacean species – as well as a host of other wildlife – and are likely to have life-changing encounters with some of the largest and most inquisitive animals on the planet.

Mark has been whale-watching for more than 30 years in more than 50 countries, and in his opinion, Baja is by far the best place for the closest and most varied encounters with a wide variety of species. He was among the first to start whale-watching tours there, leading trips in the region up to four times a year during the prime whale-watching season, every year, since 1999.

Group size: 27 people
Cost per person: £5,795 (excluding flights)
Availability in 2022: 9-21 April 2022: 1 single female and 1 single male
THE OTHER 4 TRIPS ARE NOW FULLY BOOKED (waitlists available)

Click here for 2020 season's highlights
Find out more here
Please contact Rachel Ashton if you wish to book
T: +44 (0) 117 904 8934 E: rachel@markcarwardine.com

Your financial protection is guaranteed when you book with us
---
Carbon offsetting your flights
We use the World Land Trust's Carbon Balanced programme which enables travellers to offset their residual greenhouse gas emissions through the protection and restoration of carbon-rich wildlife habitats in the tropics.
Click here to donate.